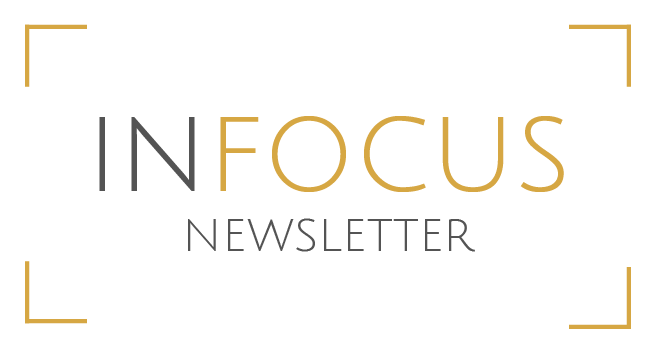 ---
Conversations with Gene

For the last few years of Gene's life, The International Focusing Institute arranged for Dave Young to meet weekly with Gene to talk philosophy. These conversations were transcribed, and they show what a beautiful job Dave did in listening and attending to Gene's process. They contain many beautiful nuggets of Gene's thought, and they demonstrate Gene in his process of thinking with the felt sense.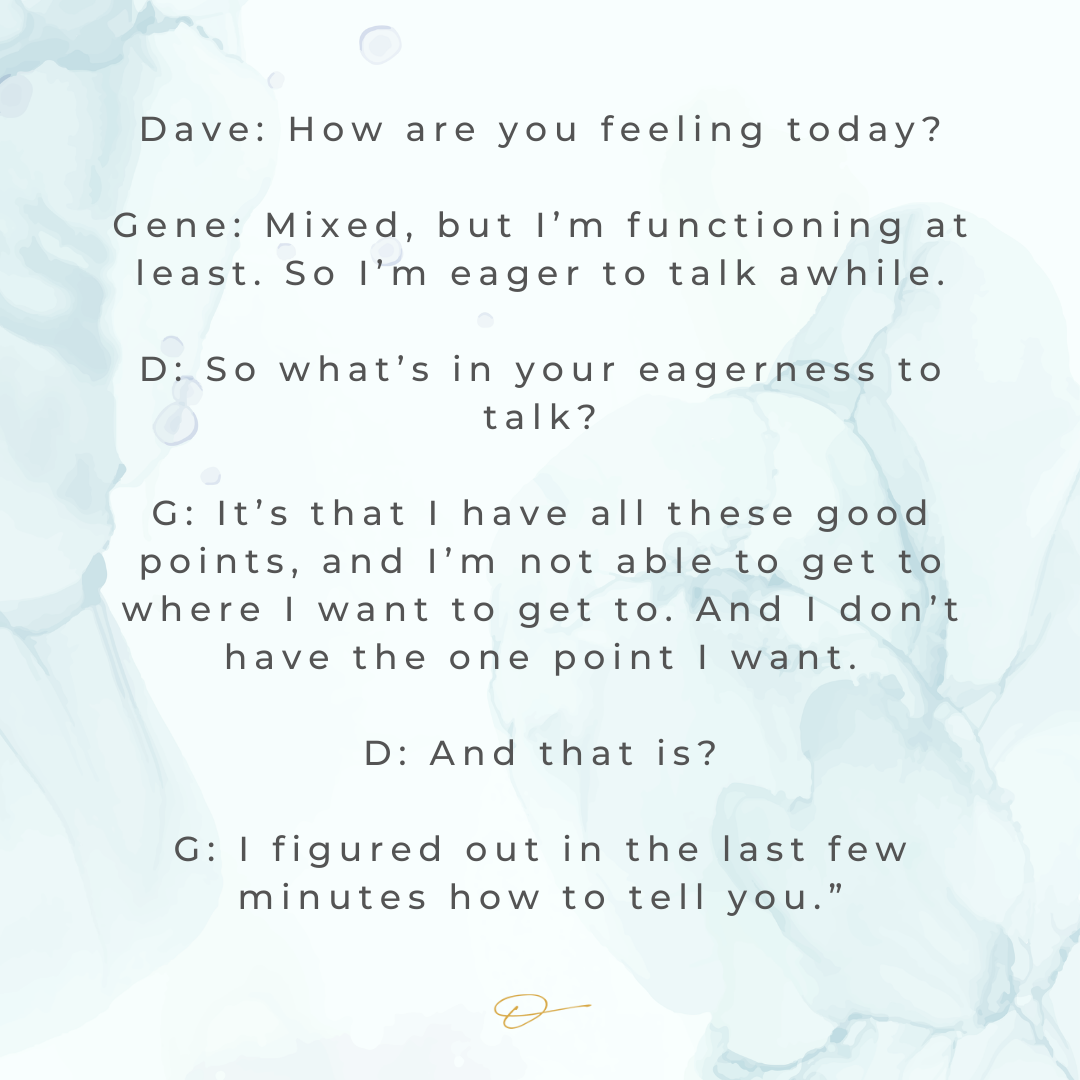 We are eager to make these conversations available, but not in their raw form. They need to be treated with sensitivity to moments where confidential information was discussed, and also to Gene's own concern about how his ideas should be presented to the world. Some of you participated in a workshop led by Dana Ganihar, Dan Schachter and Baruch Brenner, based on some of these dialogues.
We are asking for funds to help with the cost of the project of readying these conversations for publication. The whole project will take time, as it is important to us to act with sensitivity and felt sensing.
Please give as generously as you can to help us finance this important work!

---
An Update and Special Invitation
From the TIFI Board
Español



Every August at the TIFI Board meeting, the Board selects officers for the year. This year, the Board selected Nelle Moffett as President, Evelyn Fendler-Lee as Vice President and Darryl Commings as Treasurer. In addition, Florentina Sassoli was selected as the Board's representative on the Nominating Committee and Evelyn Fendler-Lee was selected as the Board's representative for the Gendlin Center.
At this meeting, the Board also refined a plan for a special Board meeting to meet with all TIFI Members via Zoom. As a member of TIFI, we warmly invite you to attend!
We have scheduled two meeting times to accommodate all time zones. Because we as Board members are also in a variety of time zones, several of us can only attend one of the two meetings ourselves. Please see below for details on both options.
Monday, September 27 at 7:00PM (US Eastern time)
This meeting will be led by Nelle Moffett with five Board members attending.
Friday, October 1 at 10:00AM (US Eastern time)
This meeting will be led by Evelyn Fendler-Lee with four Board members attending.
These will be one-hour meetings.
Both meetings will have simultaneous translation from English to Spanish.
At each of these meetings, Board members will introduce themselves, sharing why they volunteered to serve on the Board and offering some highlights of their area of responsibility. Following that there will be at least 30 minutes for members to ask questions.
If you have a question but are unable to attend, you are welcome to email the question in advance by writing us at [email protected]. We look forward to connecting with as many of you as possible from around the world!
On September 1 an invitation was sent via email to all current members. If you didn't receive it, please check your spam or promotions folders. If you don't find it, please contact [email protected]
If you are not a TIFI member and would like to become a member, please click here.
From the TIFI Board:
Nelle Moffett, USA (President)
Evelyn Fendler-Lee, USA/Germany (Vice-President)
Darryl Commings, USA (Treasurer)
Peter Afford, UK
Paula Nowick, USA
Florentina Sassoli, Argentina
---

September Focus-A-Thon
24 Hours of Focusing

Saturday, September 25, 8:00 EDT through
Sunday, September 26th 8:00 EDT

There is still time to register!
Each hour will be given in a different language (with English translation). In addition to English we will have:
Chinese * Croatian * Danish * Dutch * French * German * Hebrew * Italian *
Japanese * Portuguese * Russian * Spanish * Turkish.
We will offer a brief felt sensing experience with just enough instruction for beginners. Newcomers and experienced Focusers alike are invited.
Read what participants had to say about our Spring Focus-A-Thon:
It is such a diverse and enriching experience. Speakers from all over the world, using their personal intuition and experience to guide us. So much variety and ways to gather in the space. The atmosphere was relaxed, so well coordinated between technical support, presenters and participants, and so smoothly diving from one presentation to the next. It really felt like such community and connection, happening on a global scale! Truly a miracle!
Thank you for what you have offered. -- Greta Coutlis, Britain
An opportunity to connect to focusing worldwide, to experience novel approaches, and gain new insights. - Deworah, Israel
Whether you are new to Focusing or an advanced Focuser you will get something fresh from a Focus-A-Thon. - Anonymous

Check out the full schedule posted here.

---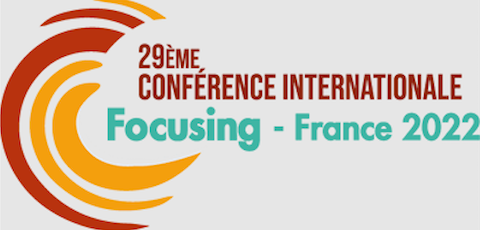 Registration Open and Call for Proposals for the 2022 International Focusing Conference in France
For those of you who may have been away on vacation last month, we are excited to tell you that registration is now open for the 29th International Focusing Conference! It will take place June 22 - 26, 2022 at the Lou Capitelle & Spa in Vogüé (Ardèche), France.
The theme is "The Conscious Body," and there will be workshops and presentations from Focusers around the world. The conference will also be an invitation to leave the traditional paths of Focusing to discover how the sensitive body can have its full place.
If you would like to give a workshop at the conference, please submit your proposal as soon as possible. The deadline for proposals is February 28, but it will help the organizers plan if proposals begin coming in now. The proposal form is found by scrolling to the bottom of the conference website.
For additional information on the full agenda and to register, click below.

---


MILESTONES
We are pleased to congratulate the following new Coordinator
and welcome him to the International Focusing Institute.
We wish him all the very best in his ongoing endeavors!
New Coordinator
Agostino Manni - Italy - Italiano
Mentoring Coordinator - Bruna Blandino

A Focusing trainer since 2012, Agostino conducts courses, lectures and seminars, and manages individual listening and support groups. He is a business management consultant who has also studied pedagogy and psychology, and is a scholar of psychosynthesis and creative meditation. As a facilitator of self-help groups, he volunteers with Samaritans ONLUS (suicides). A Reiki practitioner, he nourishes his personal growth by interacting in various initiatives to support change and the development of people, institutions and businesses. Agostino's Rome studio, "Centro FOCUSING la Giustiniana," houses his practice where he is always open to moments of sharing, and aesthetic, convivial, operational study.
---

The International Focusing Institute | 15 N. Mill St., Suite 210, Nyack, NY 10960