Eugene T. Gendlin Center for Research
in Experiential Philosophy and Psychology
An introduction by Kevin Krycka, the Chair of the first Steering Committee of the Gendlin Center
February, 2018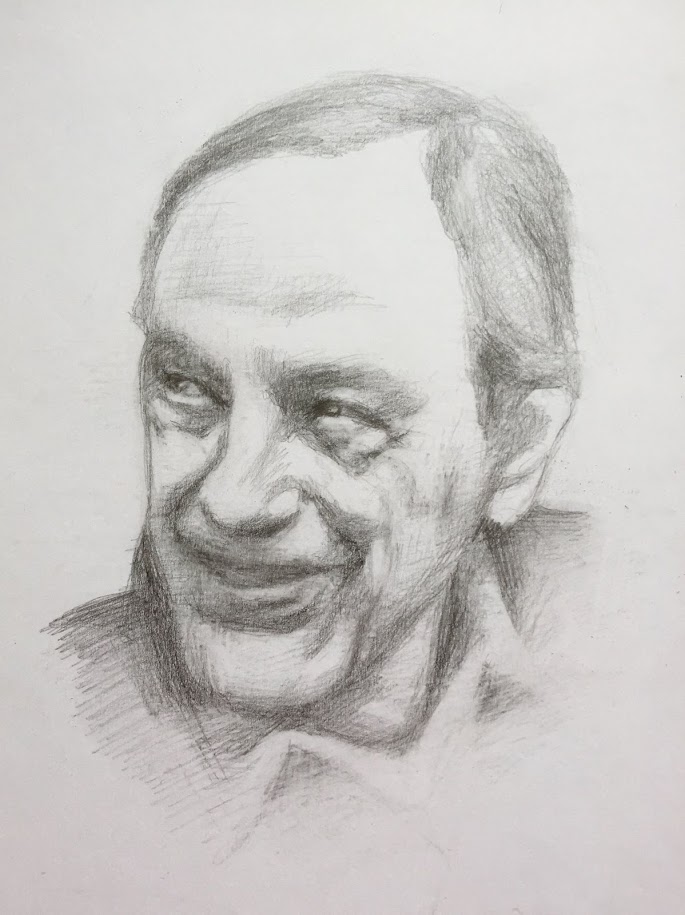 Drawing by Robin Kappy
On May 10, 2017, just a short while after Gene's death, the Board of the Institute passed a resolution to create a new research center in Gene's honor: The Eugene T. Gendlin Center for Research in Experiential Philosophy and Psychology. At that meeting, the Board asked Executive Director Catherine Torpey to convene a group of academics, as the resolution states, who are "versed in Gene's thought to move the idea forward."
Catherine drew together five of us from across the globe to be the first Steering Committee of the Gendlin Center. We are:
Kevin C Krycka, Chair, Professor of Psychology at Seattle University, USA
Akira Ikemi, Professor of Psychotherapy, Kansai University, Japan
Mary Jeanne Larrabee, Professor of Philosophy, DePaul University, USA
Rob Parker, Private Practice, White Plains, USA
Donata Schoeller, Habilitation, University of Koblinz, Switzerland
It has been seven months since that resolution was passed and I am writing now to give you a quick update on what we have been up to. First, we meet monthly. At this point our time has been spent on developing a mission statement and further defining the ways in which the Gendlin Center and the Institute can promote Gene's philosophy and psychology. Our second major activity has been to create The Gendlin Prize; one in the area of philosophy and another in psychology. Right now, two subgroups of the Steering Committee are working hard to define the focus of the prizes. We hope to be able to announce more details about the Prizes very soon, along with the scope of each, criteria for application, award amount, and timeline. Thirdly, we are just now beginning to think of how we can present the Gendlin Center and its future works on social media, the web, etc. Finally, we are co-sponsoring with Seattle University, a fall 2-day symposium entitled, "Saying What We Mean."  The exact dates and costs are being confirmed, but most likely, this meeting will be sometime in October, 2018.
I want to make special mention of thanks
to all
 those who contributed to the Gendlin Center in 2017 and to its two prizes. So far, your generous donations have totaled $9,151.  Our plan is to make an annual report, posted to the Institute website, that breaks down our activities, accomplishments, budget, and awards. We are very open to your good ideas and help as we begin this important work. 
To donate directly to the Gendlin Center, visit this page 
and click on "direct my donation to a special program."
---
The Gendlin Center Steering Committee
Kevin Krycka
(Bio)

Akira Ikemi
(Bio)

Mary Jeanne Larrabee
(Bio)

Rob Parker
(Bio)

Donata Schoeller
(Bio)
---
2017 Donors
Thank you all!
To donate directly to the Gendlin Center, visit this page 
and click on "direct my donation to a special program."
Charter Donors (gave $500 or more)
The Gendlin Care Fund
Mary Armstrong
Doralee Grindler Katonah
Marcella Calabi
Bala Jaison
Ina Bransome
Jan Winhall
Paula Nowick
Susan Lennox
Jan Roggeveen
General Donors
Christine Rehbock
Joan Klagsbrun
Judith Cobb
Mary Howard
Aaffien de Vries
Arlene Kahn
Cynthia Callsen
Barbara Chutroo
Tish-Anna Allyah Clarke Martin Cohen
Charles Herr
Joan Lavender
Katherine Sullery
Naomi Glicken
Sharon Murphy
Susan Rudnick
Lee Miller
Betty Szatkowski
Maria Skoufas
Mary Elaine Kiener
Patricia Manessy
Susan Deisroth
Susan & Paul Harris
Suzanne Noel
Kimiko Nita
Alyana Phyllis Stern
To donate directly to the Gendlin Center, visit this page 
and click on "direct my donation to a special program."