What is Focusing? We invite you to pause ...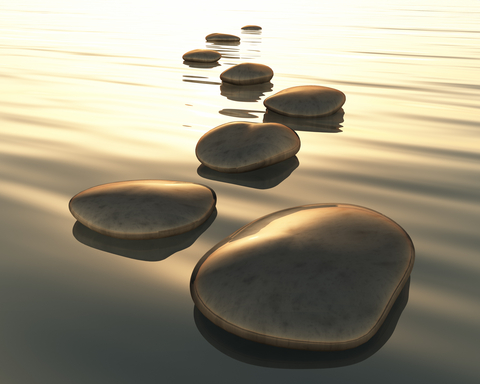 Focusing shows how to pause the on-going situation and create a space for new possibilities for carrying forward. This practice, developed from the Philosophy of the Implicit, shows how to apply open attention to something which is directly experienced but is not in words.
Your body knows more about situations than you are explicitly aware of. For example, your body picks up more about another person than you consciously know. With a little training, you can get a bodily feel for the 'more' that is happening in any situation. From that bodily feel come small steps that lead toward resolution. The Focusing Institute offers many resources, including well-developed instructions for accessing this bodily knowing. Please explore our site, where you'll find workshops, first steps for newcomers, a library and more. You are also welcome to contact us with questions.
Focusing is supported by a long series of operational research studies conducted first by Gene Gendlin and colleagues at the University of Chicago and now internationally. You may be able to learn Focusing by reading the Focusing book, or working with one of more than 1000 certified Focusing trainers from 40 countries who are available on Skype or telephone for one or several hours of Focusing training. From our list you can also find a Focusing-oriented therapist who lives near you and speaks your language. You can also participate in one of our discussion lists, find a Focusing partner, and more. The Focusing Institute is making differences in communities all over the world.
Gene Gendlin Teaches on the Telephone
Coming soon! A new tele-class with Gene Gendlin and Ann Weiser Cornell.
Past classes available on CD.
SPOTLIGHT
In loving memory of Mary Hendricks-Gendlin:

Mary Hendricks-Gendlin was the Director of The Focusing Institute for many years and was the beloved wife of our Founder, Gene Gendlin. The Institute is honored to join Mary's family and friends in welcoming you to a memorial service to be held in her memory on Saturday, May 30, 2015 at 1pm in Pomona, NY. More information. Also, the memorial page remains open for your thoughts and recollections of Mary.

Conversation:

Our April conversation features a discussion with Helene Brenner. This is part of the "Conversations" series hosted by Serge Prengel.

Workshops:

FISS 2015: 10th Annual Focusing Institute Summer School

August 14-20, 2015 at the Garrison Institute in Garrison, New York. With Ann Weiser Cornell, Nada Lou, Greg Madison, Kevin McEvenue, and René Veugelers.

Connections and Crossings: Advanced and Certification Focusing Weeklong 2015 November 6-12, 2015 at the Garrison Institute in New York with Aaffien de Vries, Suzanne Noel and Tomeu Barceló.

Advanced Focusing Training - An 8-week intermediate interactive online course taught by Ruth Hirsch, MSW, MPH, CMP for intermediate level Focusers starting July 1, 2015. Focusing Basics: An 8-week interactive online course! Taught by Ruth Hirsch, MSW, MPH, CMP. A course for beginning Focusers starting August 25, 2015.

Focusing for Generative Thinking

Tapping your untapped genius. Taught by Nada Lou starting August, 2015 in New York City.

A focusing-oriented dreamwork intensive from September 18-20, 2015 with Leslie Ellis, Ph.D in New York City.

A 4-month interactive webinar in Thinking at the Edge (TAE) with Mentors Beatrice Blake and Evelyn Pross. Starting September, 2015.

Supervising The Focusing-Oriented Therapist

A Yearlong International Interactive Webinar taught by Dr. Greg Madison. Starting Saturday, November 21, 2015.

Conferences:

The 26th International Focusing Conference

The 26th International Focusing Conference will be Wednesday July 29 to Sunday Aug. 2, 2015 on the Seattle University campus, in Seattle, Washington, USA. A Coordinators' meeting will be on July 28, 2015. Visit the Conference website

The 2015 Northeast Regional Focusing-Oriented Therapy Gathering

The 2015 Northeast Regional Focusing-Oriented Therapy Gathering will take place on October 9-11, 2015 at Mercy Retreat Center by the Sea in Madison, CT.

We have added a new section to the TFI website that has a sortable list of major International Focusing events.

Publications and Products:

Focusing by Eugene Gendlin, Ph.D.

500,000 copies in print in 17 languages. This is the original book that made Focusing available to the public. It breaks Focusing into six steps and has many examples. This is a good beginning introduction to the process. A great gift!

POTPOURRI

This first volume of a two-part series is literally a Potpourri - a mixture of articles covering innumerable topics that integrate various aspects of Focusing into very specific and enlightening subjects and themes. Now available for purchase in the TFI store

Focusing, Psychotherapy, and the Implicit

Past phone course with Gendlin, available on CD.

TFI Newsletter: In Focus

October 2014, December 2014 and April 2015 editions now available online.

Carl Rogers

Dr. Carl Rogers was Gene Gendlin's colleague and friend at the University of Chicago. Watch this delightful talk that Rogers gave in 1974.

More ...