What is Focusing? We invite you to pause ...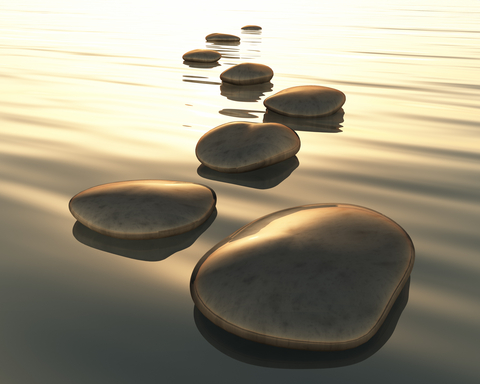 Focusing shows how to pause the on-going situation and create a space for new possibilities for carrying forward. This practice, developed from the Philosophy of the Implicit, shows how to apply open attention to something which is directly experienced but is not in words.
Your body knows more about situations than you are explicitly aware of. For example, your body picks up more about another person than you consciously know. With a little training, you can get a bodily feel for the 'more' that is happening in any situation. From that bodily feel come small steps that lead toward resolution. The Focusing Institute offers many resources, including well-developed instructions for accessing this bodily knowing. Our site allows exploration of the first steps for newcomers, a library, a Children Focusing section, and resources for experienced Focusers.
Focusing is supported by a long series of operational research studies conducted first by Gene Gendlin and colleagues at the University of Chicago and now internationally. You may be able to learn Focusing by reading the Focusing book, or working with one of more than 1000 certified Focusing trainers from 40 countries who are available on Skype or telephone for one or several hours of Focusing training. From our list you can also find a Focusing-oriented therapist who lives near you and speaks your language. You can also participate in one of our discussion lists, find a Focusing partner, and more. The Focusing Institute is making differences in communities all over the world.
Gene Gendlin Teaches on the Telephone
Coming soon! A new tele-class with Gene Gendlin and Ann Weiser Cornell.
Past classes available on CD.
SPOTLIGHT
We have a new Executive Director!

We are delighted to announce the appointment of a new Executive Director of The Focusing Institute. Her name is Catherine Torpey. Here are some comments from people who have met Catherine: "I can endorse her completely!" - Gene Gendlin. Read more

Conversation:

Our April conversation features a discussion with guest Galia Porat. Serge and Galia discuss the article Galia wrote with Liora Bar Natan: "The Uniting Image and its Contribution to the Therapeutic Process According to the Focusing Approach." This is part of the "Conversations" series hosted by Serge Prengel.

Workshops:

FISS 2014: 9th Annual Focusing Institute Summer School

August 15-21, 2014 at the Garrison Institute in Garrison, New York. With Ann Weiser Cornell, Nada Lou, Greg Madison, Kevin McEvenue, and René Veugelers.

May the Road take you Inside - Invitation to FISS 2014

Video by Nada Lou

Focusing Level Two: a residential, in-depth experience

May 9-11, 2014 at Stony Point Conference Center, Stony Point, New York. Taught by Ann Weiser Cornell.

Introduction to Focusing - Level One Workshop

June 8, 2014 in New York City with Charlotte Howorth, LCSW. Introduction to Focusing - Level Two Workshop June 29, 2014 in New York City.

The Connections and Crossings Across Cultures: Advanced and Certification Focusing Weeklong September 26-October 2, 2014 at the Garrison Institute in New York with Aaffien de Vries (Netherlands), Eunsun Joo (Korea) and Suzanne Noel (Costa Rica). We now have a slide show of photos from last year's Weeklong.

Conferences:

Third International Conference On Focusing-Oriented Psychotherapies

The conference will take place on May 15-18, 2014 at Stony Point New York, an hour outside of NYC. Workshop information is now available.

The First International Assembly of Co-ordinators: En Route ... Together

May 18-21, 2014 at Stony Point Center, NY. For the first time ever, a two-and-a half-day face-to-face assembly just for Co-ordinators of the Focusing Institute. More information

The 8th Children Focusing Conference

Portarlington (near Dublin) Ireland from 8th to 12th October 2014. The theme is Éist, the power of listening for our children. Éist is the Irish word for 'listen'. Full details and booking on the website.

The 26th International Focusing Conference

The 26th International Focusing Conference will be Wednesday July 29 to Sunday Aug. 2, 2015, with a Coordinators' meeting the day before, July 28, 2015. We will meet on the Seattle University campus. More information

Publications and Products:

Focusing by Eugene Gendlin, Ph.D.

500,000 copies in print in 17 languages. This is the original book that made Focusing available to the public. It breaks Focusing into six steps and has many examples. This is a good beginning introduction to the process. A great gift!

FOCUSING AND... Crossings and Integrations

The new 2014 Folio addresses the subject of 'Crossings' and 'Integrations' of Focusing... AND the 'crossings' that people in our community are doing are really quite astounding - from Focusing and Jung to Focusing and Architecture! The Folio can now be purchased in the TFI store.

Focusing, Psychotherapy, and the Implicit

Past phone course with Gendlin, available on CD.

TFI Newsletter: In Focus

September 2013, November 2013 and February 2014 editions now available online.

More ...