Belonging
and Crossing
Weeklong 2017

Membership in the International Focusing Institute

The Philosophy of the Implicit

Workshops and Programs

Bulletin Board
Worldwide Focusing Events
First time visiting? Learn more about Focusing.
Here is a video of a short Focusing Session with Certifying Coordinator Ruth Hirsch and our Executive Director Catherine Torpey.
Learn about our wide variety of Focusing workshops.
Visit our Youtube channel to see more videos.
Read a description of a Focusing session excerpted from "Don't Go It Alone: The Power of Focusing Partnerships" by Lynn Preston and Dr. Joan Klagsbrun.

Find a Focusing Professional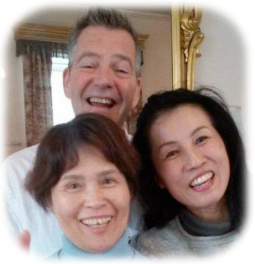 Eugene Gendlin
Visit www.EugeneGendlin.com
to watch the Memorial Service.
What if...
~ you already have within yourself the answers to life's dilemmas and frustrations?
~ you had access to deep wisdom at all times, for the rest of your life?
"Focusing" is a process for helping your mind listen to the wisdom of your body.
In any situation, your body is sending you information. Many of us don't know how to open our minds to this information because it doesn't follow the same logic as our cognitive mind.
We have deeper wells of knowledge within us than we consciously know.
Focusing helps to give us access to all of it.
---
Strategic Planning

We are in the midst of a strategic planning process. Learn more here.

Gene Gendlin Telephone Classes

Past classes with Gene Gendlin and Ann Weiser Cornell available on CD.

Conversations:

The August conversation is with Beatrice Blake. Serge and Kathy talk about how to think out of the box: Instead of just relying on linear logic, how we can use all of our resources in a mindful way. This is part of the "Conversations" series hosted by Serge Prengel.

Workshops:

Belonging and Crossing in Community: Advanced and Certification Focusing Weeklong 2017

October 15-20, 2017 (now 5 nights) at Mercy by the Sea in Madison, Connecticut - 2 hours north of New York City.

Focusing Basics: An 8-week interactive online course Taught by Ruth Hirsch, MSW, MPH, CMP. A course for beginning Focusers starting October 18, 2017.

Registration for this course is now closed.

Children Focusing: A seven-week interactive online course Taught by Laura Bavalics starting October 27, 2017.

From a Creek to a River: Marketing that Works for You
Part of The Focusing Highlights Series of pay-what-you-can classes. Interactive Online Class facilitated by Sally Tadmor on October 30th, 2017.

El Comité de Membresía tiene el placer de anunciar una serie de entrevistas gratis para miembros hispano-hablantes del Instituto International de Focusing. Cafecito-9: El camino se hace al andar: La historia del Focusing de Recuperación (Recovery Focusing). Un poderoso cruce del Focusing con cualquier proceso de adictivo. Dialogando con: Suzanne Noel. Cuando: miércoles uno de noviembre de 2017. 4 pm-5:30pm (Hora Nueva York) Más información

Focusing Roundtable: Focused Self-Care for Caregivers
Part of the Focusing Roundtable series for TIFI members, this free online conversation is hosted by Mary Elaine Kiener and Bruce Gibbs on Wednesday, November 15, 2017 from 1:00 – 3:00 PM (US) Eastern time.

Focusing Training: Intermediate-Advanced Taught by Ruth Hirsch, MSW, MPH, CMP. An 8-week intermediate-advanced interactive online course starting January 17, 2018.

Building a Successful Business using Focusing

A live, interactive online course with Sally Tadmor. Two sections - starting February 2018.

Two-Year Focusing Online Interactive Certification Program with Charlotte Howorth, LCSW. Starts Friday, February 9, 2018.

Conferences:

Visit our list of major International Focusing events.

Publications and Products:

Focusing by Eugene Gendlin, Ph.D.

500,000 copies in print in 17 languages. This is the original book that made Focusing available to the public. It breaks Focusing into six steps and has many examples. This is a good beginning introduction to the process. A great gift!

POTPOURRI PART 2

The second volume of a two-part series is literally a Potpourri - a mixture of articles covering innumerable topics that integrate various aspects of Focusing into very specific and enlightening subjects and themes. Now available as a free digital eFolio or or as a printed version which can be purchased in the TFI store

TFI Newsletter: In Focus

Recent editions now available online.

Carl Rogers

Dr. Carl Rogers was Gene Gendlin's colleague and friend at the University of Chicago. Watch this delightful talk that Rogers gave in 1974.

More ...