Online Community Support for Living a Focusing Way of Life
Your Hosts
Event Image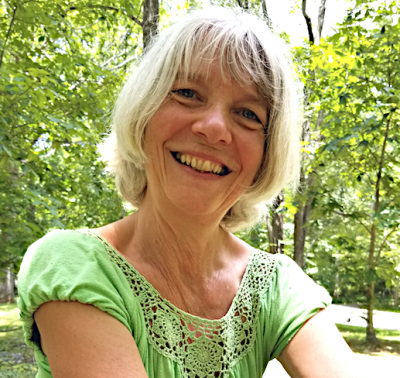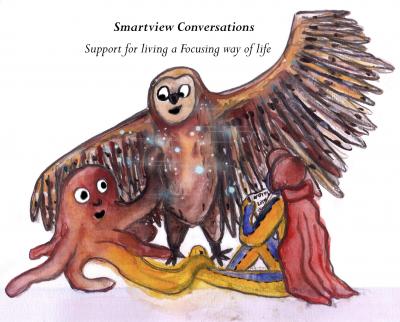 Sandy Jahmi Burg, Certified Focusing Professional and Coordinator-in-Training
Are you looking for a community that commits to creating a fun and safe place for each member to improve their skills at navigating life situations of all kinds?
A place of radical acceptance where all of you is welcome?
Smartview Conversations is a place where we intentionally practice support for ourselves and each other in living a Focusing way of life, including when our environment is challenging. We will use individual and small group invitations, role play and embodiment exercises to improve our ability to access and act from felt sense awareness in more of our daily interactional life moments. We will improve communication with our own bodies and brains to understand how to support our own sense of thriving in today's world. Our online community is modeled off of the intentional Focusing community created in Smartview Stories. We will cross concepts from the stories with our real-life situations. We will deepen our understanding of our own brain neuroscience by becoming familiar with how it is embodied by the three Inner Companions in Smartview Stories.
COMMUNITY SUPPORT FOR YOUR INDIVIDUAL GROWTH
We will not be utilizing partnership exercises between classes here. Instead, our emphasis is on utilizing small group listening and embodiment activities such as writing, art, movement and role play, to expand your sense of empowerment to show up for your self, your family and other communities in your life. Other than maybe 10-30 min of reading, and individual goals you set to practice for yourself, your time commitment will be our 1.5 weekly hours together.
LIVING IN RHYTHM WITH NATURE
One of the concepts we will practice passionately is something we call the power of the pause in Focusing. Nature is one of our best teachers here and we will find ourselves paying more attention to the nature around us. Neuroscience has a lot to say about rhythms of rest, movement and eating that support a healthy brain. I also know this concept personally as 'alaha nyach' or the blessings of work and rest from my Sufi practices. Our yearly schedule has its own rhythm of 10 weeks of 'work' when we are in session followed by 7 weeks of 'rest' where we are giving ourselves space for integration.
CULTURAL NORMS ARE FALLING APART
All around us, cultural norms are falling apart. Aspects of being human such as hierarchy, ways of making a living or contributing to society, family traditions, energy sources and more are in transition. What had worked for sometimes thousands of years, is no longer working. This is incredibly exciting to be here, in these bodies, contributing to how humanity chooses to evolve. It is also often overwhelming to have so much of what we relied on as 'normal' not working.
NEUROSCIENCE AND THE INNER COMPANIONS
Understanding our brain, how it works, how to stay in relationship to it, how to support thriving, will ground us again and again. I am a long time neuroscience geek as well as a Sufi mystic. The combo has given me the tools and inspiration to explore my own experience of living in a body/brain. It is Iain McGilchrist's work looking at the evolutionary patterns of the human brain and crossing this with Gendlin's patterns of philosophy (Three Types of Theories), that is the ground for the development of the Inner Companions in the Smartview Stories book series.
SPEAKING FROM OUR CENTER TO THE CENTER OF OUR CIRCLE
This is a skill I first learned from Parker Palmer and the Courage and Renewal folks. Essentially, we are putting Gendlin's 'situation' or 'topic' spatially in the center of our interactive space. We speak our truth to this center and not directly at each other. HUGE in terms of creating space and safety to explore life's challenges together.
LIFE FORWARD KNOWING
Gendlin's philosophy reminds us that all of life has its own forward knowing, its own next step toward thriving. In times like these, we can only find this if we are freshly pausing. We might say, pause until your soul can join you. Or wait to sense the spirit in this situation. Trying to express this something new often needs a new way of communicating. THIS, this new way of communicating is what we'll cultivate here in our community. We will become skilled at reframing or rephrasing that invites this something new.
ACTION
Gendlin was clear that Focusing is not just listening within ourselves or holding space for others. We are finding our own right actions and acting in the world. What is a right action for us in this situation, won't always be appreciated by others. Especially in these times of cultural norms changing. Many people will insist that the old patterns worked and will work now if we all just follow them. A huge aspect of how we will support each other is in recognizing that our personal right actions often still come with doubt or fear. No wonder! We are being called to do something brave or courageous.
2023 SMARTVIEW CONVERSATIONS SCHEDULE
SMARTVIEW CONVERSATIONS SUMMER SESSION – 2023
Featuring Smartview Stories Book 1 'Awkward Moments Bloom' as curriculum for us to improve our skills in authentically interacting from our center in group dynamics where we sometimes lose our sense of worthiness. We often find ourselves in freeze, avoid, or rebel patterns.
10 Tuesdays via Zoom videoconference
12 pm – 1:30 pm EDT, 11 am – 12:30 pm CDT, 10 am – 11:30 am MDT, 9 am – 10:30 am PDT
May 30, June 6, June 13, June 20, June 27, (skip July 4), July 11, July 18, July 25, Aug 1, Aug 8
*note this time works well for most European countries as well
Prerequisite: Guided Focusing Session with a Certified Focusing Professional
Course fee $225 ($585 to register for one year or three 10 week )
Register By: Tuesday, May 23
Registration Information
There is a prerequisite of a Guided Focusing Session to support clarity in how we are supporting ourselves and others in our group space. More information is HERE if you'd like to do a session with me.
Please register early if the dates/times work well for you. Class size will be limited.
Payment can be made via Paypal or check mailed to my address closer to the event starting date.