Part of the Focusing Roundtable Series
Your Hosts
Event Image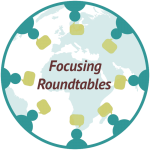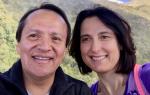 Your Hosts
Event Image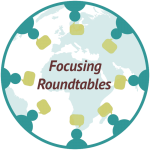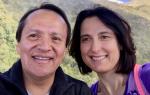 Soti Grafanaki and William Hernandez
Where
ONLINE
Online Joining Information
Please note: This Roundtable is a live offering (no recording).
Thursday, February 20, 2020 from 3:00 pm to 5:00 pm Eastern Time
Times worldwide: convert to your time zone
Please Note: A Spanish translation of this announcement follows the English version below. Spanish speaking members who understand some English are encouraged to attend this Roundtable. While this program will be primarily presented in English and will not be translated verbatim in its entirety, we are pleased that a few bilingual volunteers have offered to be present to offer some translation of key points as needed.
The TIFI Membership Committee is pleased to offer this series of Focusing Roundtables designed especially for members of the Institute. If you are not a member, please join at https://focusing.org/page/join-or-renew and then return to this page to register. This program will afford members a valuable opportunity to engage in casual peer-to-peer conversation with other members who share Focusing-related interests.
In this Roundtable, we will reflect on simple practices that can naturally bring a person to attend to what is present, stopping for a moment the "'noise" that is produced through the movement of time -from the past to the future - and letting one sense the deeper "felt" of the whole situation. The Roundtable will offer participants the opportunity to check for themselves the power of moving beyond descriptions and wordiness, to observation without words, where lies the base of the Focusing process and sustainable well-being.
The hosts will share with participants excerpts from their books - The Natural Pause- A Path to Peace and The Natural Pause Compendium- to encourage reflection about the limitations of habitual attention and tendency to describe or recall things, rather than experience them freshly each moment. During the Roundtable, we will bring forward practice-based evidence of Felt Sense Literacy in Action to support human resilience, promote conflict transformation and enable people to return to the base of their intrinsic resourcefulness.
Some questions we might explore together are:
What is under the "felt sense"?
What is the base of the Focusing process?
What does it take to pause naturally?
Can the "magic" of the first Focusing experience be conserved?
What is the simplest path to sustainable well-being and mental health promotion?
These and other questions will guide our "Return to the Base", where the Focusing process starts and new possibilities emerge for heartful living.
Who might be particularly interested in attending this Roundtable? This Roundtable is relevant for experienced and new focusers alike, and all those who are interested in promoting mental health and sustainable well-being, especially in vulnerable contexts and with individuals at risk. Specifically, it is suitable for those interested in deepening their capacity to:
Listen and perceive with clarity what is present each moment;
Eliminate or reduce mental "noise";
Access their own sense of deep peace and tranquility;
Pause naturally and without special effort;
Attend closer to the "base" of the Focusing process and its connection to the "felt sense", without the use of complex steps or special instructions;
Enable positive mental health practices with vulnerable and at-risk populations.
CONNECTION>CONVERSATION>COMMUNITY
What to expect from Focusing Roundtables: Each Focusing Roundtable is designed to promote informal peer-to-peer conversation. Rather than acting as expert presenters, the Hosts will serve as conversation moderators to encourage sharing and exploration of the topics from the participants' own perspectives. All participants' sharings are welcome and valuable, no matter what level of experience or knowledge you have on the topic. To preserve the nature of informal conversation, the program will be offered live only and no recordings will be available. Registration is limited and on a first-come, first served basis. Participants are encouraged to create follow up opportunities for connection among themselves after the Roundtable.
About your hosts:
Soti Grafanaki, Ph.D. & William Hernandez are Certifying Coordinators of The International Focusing Institute.
Soti is a Professor of Psychotherapy at Saint Paul University in Canada with 20 years of experience in psychotherapy training and Person-Centered research.
William is the Executive Director of FECD, a non-profit organization that works with the most vulnerable communities in Ecuador. William worked closely with Gene Gendlin and Mary Hendricks in the development of the Felt Sense Literacy project. He created and applied the model "Human Development through the Pause" in more than 250 communities.
Soti and William have been working together since 2012 on developing resources and exploring practices that support human resilience, peace building and mental health. They have offered many workshops and retreats in Europe, North America and South America. They recently published the book: The Natural Pause- A Path to Peace, along with accompanying practical resources, which promote the Pause Movement (www.pausemovement.org) and Human Sustainability. These resources are available at www.pausevillage.com.
--------
MESA REDONDA DE FOCUSING
Llamada en vivo – On line o por teléfono (No grabado)
"Retorno a la Base":
El "Precursor" de la Sensación Sentida
y su Alfabetización (FSL)
Presentado por Soti Grafanaki y William Hernández
Fecha: Jueves 20 de febrero, 2020
Hora: 3:00 - 5:00 PM Hora Estándar del Este (EE. UU.)
convertir a su zona horaria
El Comité Miembro del TIFI se complace en ofrecer esta serie de Mesas Redondas de Focusing diseñadas especialmente para los miembros del Instituto. Si usted todavía no es un miembro, por favor únase en https://focusing.org/page/join-or-renew y luego regrese a esta página para registrarse. Este programa le brindará una valiosa oportunidad para entablar una conversación casual entre pares con otros miembros que comparten intereses relacionados con el Focusing.
En esta Mesa Redonda reflexionaremos sobre algunas prácticas simples, que de manera natural, pueden llevar a una persona a prestar atención a lo que "es" en el presente, deteniendo por un momento el "'ruido' que se produce a través del movimiento del tiempo -del pasado hacia el futuro-, desde el cual se percibe y se actúa, y permitiendo que la sensación de un "sentir" más profundo de toda una situación emerja. La Mesa Redonda ofrecerá a los participantes la oportunidad de comprobar por sí mismos el poder de ir más allá de las descripciones y las palabras a una observación sin palabras, donde desansa la base del Focusing y del bienestar sostenible.
Los anfitriones compartirán con los participantes extractos de sus libros: The Natural Pause - A Path to Peace (La Pausa Natural – Un camino hacia la Paz) y The Natural Pause - Compendium (La Pausa Natural – Compendio), para alentar a la reflexión sobre las limitaciones de la atención habitual y la tendencia a describir o recordar los hechos, en lugar de vivirlos en cada momento. Durante la Mesa Redonda, se presentará evidencia basada en la práctica de Alfabetización de la Sensación Sentida en Acción para apoyar a la resiliencia humana, promover la transformación de conflictos y permitir que las personas regresen a su base natural de ingenio intrínseco.
Algunas preguntas que podemos explorar juntos son:
• ¿Qué hay en lo profundo de la "sensación sentida"?
• ¿Cuál es la base del proceso de Focusing?
• ¿Qué involucra pausar naturalmente?
• ¿Se puede conservar la "magia" de la primera experiencia de Focusing?
• ¿Cuál es el camino más simple hacia el bienestar sostenible y la promoción de la salud mental?
Estas y otras preguntas guiarán nuestro Mesa Redonda de "Retorno a la base", en donde el proceso de Focusing inicia y desde el que surgen nuevas posibilidades para una vida plena.
¿Quién podría estar particularmente interesado en asistir a esta Mesa Redonda? Esta Mesa Redonda es relevante tanto para personas nuevas como aquellas con experiencia en Focusing, y para toda persona interesada ​​en promover la salud mental y el bienestar sostenible, especialmente en contextos vulnerables y con personas en situación de riesgo. Específicamente es adecuada para aquellos interesados ​​en profundizar su capacidad para:
• Escuchar y percibir con claridad lo que está presente en cada momento;
• Eliminar o reducir el "ruido" mental;
• Acceder a su propia sensación de profunda paz y calma;
• Pausar de manera natural y sin esfuerzo;
• Atender más de cerca la "base" del proceso de Focusing y su conexión con la "sensación sentida", sin el uso de pasos complejos o instrucciones especiales;
• Promover las prácticas positivas de salud mental con poblaciones vulnerables y en situación de riesgo.
CONEXIÓN> CONVERSACIÓN> COMUNIDAD
Qué esperar de las Mesas Redondas de Focusing: Cada Mesa Redonda de Focusing está diseñada para promover una conversación informal entre pares. En lugar de actuar como presentadores expertos, los anfitriones servirán como moderadores de la conversación para alentar el intercambio y la exploración de los temas desde las propias perspectivas de los participantes. Todos las participaciones de los asistentes son bienvenidas y valiosas, sin importar el nivel de experiencia o conocimiento que tengan sobre el tema. Para preservar la naturaleza de la conversación informal, el programa se ofrecerá solo en vivo y no habrán grabaciones disponibles. El registro es limitado y se otorga por orden de llegada. Después de la Mesa Redonda, se alienta a los participantes a crear oportunidades de seguimiento para conectarse entre ellos.
Soti Grafanaki, Ph.D. & William Hernández son Coordinadores Certificados del Instituto Internacional de Focusing.
Soti es Profesora de Psicoterapia en la Universidad de Saint Paul en Canadá con 20 años de experiencia en entrenamiento en psicoterapia e Investigación Centrada en la Persona.
William es el Director Ejecutivo del FECD, una organización sin fines de lucro que trabaja con las comunidades más vulnerables en Ecuador. William trabajó en estrecha colaboración con Gene Gendlin y Mary Hendricks en el desarrollo del proyecto de La Alfabetización de la Sensación Sentida (Felt Sense). Creó y aplicó el modelo "Desarrollo Humano a través de la Pausa" en más de 250 comunidades.
Soti y William han estado trabajando juntos desde el año 2012 en el desarrollo de recursos y la exploración de prácticas que apoyan la resiliencia humana, la construcción de la paz y la salud mental. Han ofrecido numerosos talleres y retiros en Europa, América del Norte y América del Sur. Recientemente publicaron el libro: The Natural Pause – A Path to Peace (La Pausa Natural - un camino hacia la paz), acompañados de recursos prácticos que promueven el Movimiento de Pausa (www.pausemovement.org) y la sostenibilidad del bienestar humano. Estos recursos están disponibles en www.pausevillage.com.
Registration Details
Registration Closes: Wednesday, February 20 at 12:00 pm (noon), or when the class is full, whichever is sooner.
Zoom: This conversation will take place on an online video conference service called Zoom. Please attend by computer so that we can have your video presence as well as your audio. Calling in by phone is also possible but not preferred.
Price: The co-hosts are volunteering their time in order that this program may be brought to members of TIFI at no charge.
PLEASE NOTE: When you register, you will receive an email indicating your registration was processed. If your dues are current, we will complete your registration and email instructions to join the event within a few days of the start date. If you know your dues are not current, or if you are not yet a member, please go to the membership page to pay your dues or join and then return to this page to register. Membership page: www.focusing.org/join-or-renew.
Obtenga más información y regístrese aquí
POR FAVOR TENGA EN CUENTA: Cuando usted se registre, si sus cuotas están al día, procesaremos su registro y le enviaremos su confirmación por correo electrónico dentro de unos días. Si conoce que sus cuotas no están al día, o si aún no es miembro, vaya a la página de membresía para pagar sus cuotas o únase y luego regrese a esta página para registrarse. Página de membresía: https://focusing.org/page/join-or-renew
2020-01-24T13:00:00 - 2020-02-19T17:00:00