Your Hosts
Event Image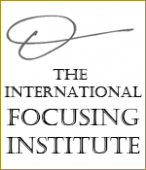 The International Focusing Institute - Donata Schoeller
Where & When
Online Joining Information
Soon after registering, an email will be sent with details on how to access content and recordings.
Content and recordings will be available to all registrants through October 15, 2021.
Note: This workshop has concluded, however, Post-Workshop Registration is now open. All registrants will have access to course materials and recordings from July 9-October 15, 2021.
A Process Model Workshop
(was held) June 24 - 27, 2021 at 12:00pm - 3:00pm Eastern (NY) time
An Online Interactive 4-day Workshop facilitated by Donata Schoeller
(Four 3-hour sessions Thursday, Friday, Saturday and Sunday)
Start Times Around the World: Mexico City 11am / New York 12pm / Germany 6pm
Registration Note: This workshop is designed for either full live registration or registration for the recordings. Each day of this 4-day workshop builds upon the day before. Therefore, we ask that registrants plan to attend all 4 sessions live or wait for the recordings.
All registrants will receive a link to the recordings approximately 2 weeks after the conclusion of the workshop (breakout rooms are not recorded). The recordings will remain available for 3 months.

DESCRIPTION
Follow a Felt Sense a little, put it into words - and things become clearer, situations even change. How can that be? Have we not learned that feelings are inside, something subjective? Why do situations change just by paying attention to a subtle feeling and putting it into words?
Gendlin's A Process Model creates new foundations for thinking about the connection of inside and outside, feeling and situation, language-use and change possibilities. His basic concepts provide an understanding for phenomena we experience, but cannot explain easily. To be able to grasp the subtleness and power of the experiencing process in more satisfying terms re-affects experiential possibilities. At the same time, this model allows us to perceive the world differently: richer, more complex, more creative - in every moment. We understand how intricate each situation is - hardly imaginable in the truest sense of the word! We understand how we are connected to our environments through and through, and what a dizzyingly complex history the present moment is - and a Felt Sense of it! When we begin to understand this better, we can in turn do more creative Focusing. Furthermore, we gain more possibilities and freedom to convey what we "do" in Focusing to others.
This 4-day intensive workshop will focus on Gendlin's 'basic model' within A Process Model, the first 4 chapters. The course consists of three elements:
reading (slowly!) together
exchange
experiential exercises that Donata has developed in the last five years. The experiential exercises support the opening up of the text to allow you to co-generate the model together with Eugene Gendlin.
Registrants are not required to purchase the book and will be supplied with a manuscript with chosen paragraphs that lay a path of understanding. From there it will be easier and more pleasurable to re-read the original text.
PREREQUISITES
Registrants should have familiarity with Focusing, but do not need experience with philosophy or A Process Model.
FORMAT
We use Zoom videoconferencing for our online classes. You will need to have a computer/mobile device. Calling in by phone is also possible but not preferred. This workshop will be held in Zoom meeting format and breakout rooms will be utilized (breakout rooms are not recorded).
ABOUT YOUR FACILITATOR
Donata Schoeller is a philosopher who teaches at the University of Koblenz and Iceland. She is the academic director of the European Erasmus Program Training in Embodied Critical Thinking. Donata Schoeller has published extensively on Gendlin's philosophy. She has also translated A Process Model into German with Christiane Geiser, and has written a first introduction into this oeuvre in close collaboration with Eugene Gendlin and Neil Dunaetz. She is a Focusing trainer. As a TAE-teacher she is invited internationally to teach at Universities and Academies. She has three daughters and lives in Switzerland and Germany.
Registration Policies
Refunds A full refund minus a $15 administrative fee for cancellations 14 days before the start date. Cancellations less than 14 days before the start date are nonrefundable. The International Focusing Institute reserves the right to cancel or re-schedule for insufficient enrollment or for other unanticipated reasons. In such cases you will be given a choice of applying your tuition to future programs, or having the full enrollment fee returned to you.
TIFI reserves the right to cancel, change and alter the program if necessary. Participants authorize TIFI to use their name, statements and likeness without charge, for promotional purposes in publications, advertising, video, web, new media, or other formats.
By registering for this course with the Institute, and in consideration of the right and opportunity to participate in and contribute to the Institute's classes, for the purposes of its control of all video and/or audio recordings thereof pertaining to uses serving our purposes and goals, in enrolling in this session you acknowledge and agree to the Institute's ownership of all rights in such classes, including all rights under copyright therein. In no circumstance shall any portion or clip posted or displayed exceed 3 minutes in duration. If you plan to use, post or display any portion or clips of these recordings, including posting these to a website or to a social media platform or portal, you agree that you will seek and obtain the prior approval of the Institute.
For more information:
Contact Elizabeth at [email protected] or (845) 480-5111.
Registration Details
Regular Price $265 Modified Price $190 Lowest Price $115
Three tier pricing. We welcome you to select the level right for you, while reminding you that if you have a reliable means of support and live in a country with a strong economy, we ask that you pay the regular price. By choosing the highest amount you are capable of paying you help make the sliding scale possible. Thank you!
2020-12-22T17:00:00 - 2021-10-09T03:50:00