Your Hosts
Event Image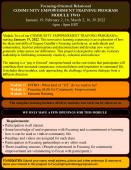 Your Hosts
Event Image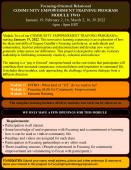 Facilitated by the Focusing-Oriented Relational Community Empowerment Project
Where & When
The training is a "pay it forward" enterprise based on the conviction that participants will contribute their increased competence, resourcefulness and inspiration to communal life.
It includes three modules, each approaching the challenge of genuine dialogue from a different direction.
Module 1: INTRO - What kind of "US" do we want to be?
Module 2: Focusing Skills for Community Empowerment
Module 3: Genuine Relating
The complete training includes all three modules, but each can be taken on its own.
WE ONLY HAVE A FEW OPENINGS FOR THIS MODULE
Requirements:
Participation in all classes.
Some knowledge of and experience with Focusing and a commitment to learning how it can be used to vitalize community life.
Readings and videos are assigned for each class.
Participation in Focusing partnerships every other week.
Three coaching sessions. (People experienced in Focusing for community empowerment are volunteering to Focus with participants.)
Registration Information
TO REGISTER: Submit your name, email address, picture and a few sentences (5 maximum) about your interest in this program.