24 hours of Focusing Around the World
Your Hosts
Event Image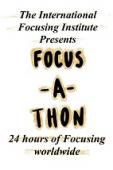 The International Focusing Institute
Where & When
Online Joining Information
A confirmation email with the zoom link will be sent shortly after you register. For this event, you must join via video, calling in is not an option.
Please note: Registration will remain open until 8:00 am Eastern on Sunday two hours before event's end. An immediate confirmation with how to join is sent. If you don't see it immediately, check spam or if using Gmail, your promotions tab.
A 24-hour marathon of Focusing!
For 24 hours, beginning at 10am Eastern US time on Saturday, June 6, experienced Focusers will be on Zoom to offer you a taste of felt sensing and an opportunity to connect with one another! Find the start time in your locality here.
To participate, you give $1, and then you come to as many of the one-hour experiences as you like! Please participate in this experimental fundraiser for The International Focusing Institute and ask all your friends to participate, too!
Please note that each hour will be unique. The unpredictable nature of each hour is meant to be part of the fun of this event, so please come with a spirit of openness to what wants to emerge! Leaders will all offer a Felt-Sensing experience, but other aspects of the hour will be determined by the leader and whatever participants happen to show up. Many hours are led in languages other than English, but English speakers are available in every hour.
LANGUAGES
All the leaders speak English, but depending on the hour, the presentation might be in a different language in addition to English. We have Hebrew, Cantonese, Mandarin, Italian, Spanish, German, Dutch, Flemish, Japanese, Polish and Norwegian! Check the schedule for your language.
All are invited, but some familiarity with Focusing will be helpful. These will not be lessons, but rather brief felt sensing experiences.
You must sign up in advance by donating a minimum of $1 to attend. Since it is a fundraiser, please give more if you can! We will send you the Zoom information, then you'll attend as many one-hour sessions as you like for 24 hours! (Please come on time at the beginning of the hour and stay for the whole hour.)
Please forward this to anyone and everyone you think may be interested.
Focus-A-Thon Schedule - 24 hours: June 6th at 10 am through June 7th at 10 am
Click on the time to find your local time View Schedule below as a PDF
Registration extended: Registration closes at 8:00 am Eastern Time on June 7, two hours before the end of the event. .
Registration Details
2020-05-22T21:56:00 - 2020-06-07T12:00:00
Contact
Email questions to [email protected]. Please note Registration extended until 8:00 am Eastern Time Sunday June 7. Event ends at 10:00 am Eastern time June 7.
Registration Information
24 Hours of Focusing Around the World is a fundraiser. $1 USD minimum to attend. Please give as generously as you can!