2-Year Live, Online Program
Your Hosts
Event Image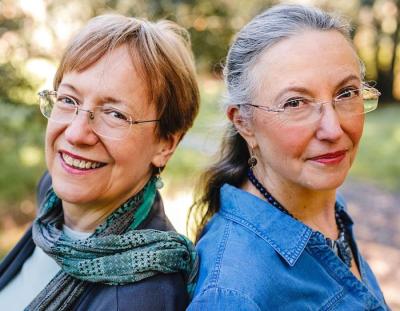 Ann Weiser Cornell, Barbara McGavin, and Additional Program Faculty
Where & When
Online via Zoom
Thursdays, 4 PM - 6 PM
Pacific Time
Online Joining Information
Details provided upon registration. See registration prerequisites below.
Has Focusing changed your life in a profound way? Do you feel called to help facilitate that kind of powerful change for other people? Our two-year live, online program will give you the skills you need to become a Certified Focusing Professional.
Build a profession teaching Focusing, add Focusing to your current profession, or bring Focusing to your family and community.
Our next program starts in October.
Taught by Ann Weiser Cornell, Barbara McGavin, and Additional Program Faculty.
In This Two-Year Comprehensive Certification Program, You'll:
Deepen your understanding of change processes and be able to translate that self-understanding into your work with clients
Learn to deeply listen to yourself, your clients, and the life unfolding around you
Develop the inner and outer tools to establish yourself as a Focusing Professional
Actively participate in a consistent community of peers and fellow professionals, hopefully forming lifelong friendships and even professional collaborations
Learn to create a clear heart-based marketing strategy to help you thrive in your Focusing practice
Engage both the theory and practice of Focusing in order to bring Focusing into your professional life in a holistic, integrated, and alive way
At the end of the program, you'll be able to:
Provide one-to-one Focusing sessions at a professional level, including introducing Focusing to someone who has never done it before.
Create and teach classes and workshops in Focusing.
Offer guided group exercises and attunements to bring Focusing into various group settings, including workshops on other topics.
Communicate successfully about Focusing and your work in conversations, in public settings, and in marketing materials.
Hear From Students Who've Taken The Course
"The Inner Relationship Certification Program was for me a skillful, in-depth, and thorough unpacking of the magic and power of Focusing. As a health care provider, the wealth of resources that I received, are invaluable and continue to inform my work in further supporting my clients. The teachers are excellent in that they are so passionate and knowledgeable about Focusing and are so willing and generous to share this understanding with us throughout the program. I highly recommend this certification program for anyone wishing to explore Focusing at its best!" ~Rose Sposito
"So much of education is like a factory floor with machines churning out biscuits that are all the same shape and size. This is a completely different approach that cultivates each person's interests, passions, and capabilities. It's sensitive, supportive, and substantive. The way the teachers in this program give to students is unlike any education program I've ever witnessed... My first paid Focusing client said to me, 'You know, I've been going to therapy for so many years. They always said I could find what I needed inside but I never felt like I could until I started Focusing.' To be able to help someone see that within themselves is the biggest gift I could be giving." ~Marie
Registration Information
Dates & Time: Oct 12, 2023 - May 22, 2025; Thursdays, 4:00 PM to 6:00 PM Pacific Time
Prerequisite: Completion of Level Four Focusing or Your Path to Lasting Change, Part Two.
Registration Requirements: A 20-Minute Chat with Ann Weiser Cornell. Completion of the program application. Official letter of acceptance.