Spring Session / Sesión de Otoño
Your Hosts
Event Image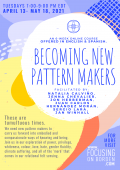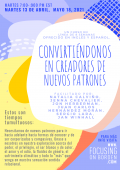 Your Hosts
Event Image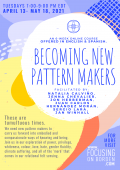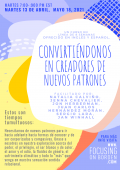 Natalia Calviño, Jenna Chevalier, Jon Herberman, Juan Carlos Hernández Morán, Sergio Lara, Jan Winhall, Focususing on Borden
Where
Online Joining Information
Zoom
You will receive a zoom link and instructions for joining several days before the course begins. You are encouraged to arrive 10-15 minutes before our start time.
Recibirá un enlace de zoom e instrucciones para unirse varios días antes de que comience el curso. Se le anima a llegar 10-15 minutos antes de nuestra hora de inicio.
Tuesday, April 13, 2021 - Tuesday, May 18, 7:00 - 9:00 PM EDT
Martes, 13 de Abril, 2021- Mayo 18, 7:00 - 9:00 PM PM EDT
Course Description:
We are exploring new formations with this encore spring session of Becoming New Pattern Makers. These are tumultuous times. Old constricting patterns of thinking and behaving have led to systems of oppression. We need new pattern makers to carry us forward into embodied and compassionate ways of knowing and being. We will continue to explore themes of power and privilege, whiteness and colour, love and hate, gender fluidity, climate suffering, and all of the 'more' that comes in our relational felt sensing. We use live translation between Spanish and English to create new language patterns to be together across cultures and explore new patterns, where fresh ways of being will emerge. This new course is a collaboration between Focusers from Argentina, Chile, and El Salvador, who donate their time to support this collaboration.
How does social change happen? This experiential course is grounded in change-making processes and is an opportunity to feel into your place in social patterns on a global and community level. Our facilitators want to share their experiences as changemakers and offer a place to practice emotional regulation and safety while exploring topics like trauma, racism, misogyny, violence against women, homophobia, transphobia, and white privilege. Our explorations will be experiential, group-driven, and offer the excitement of large-group interaction and the intimacy of smaller breakout settings.
In large whole-group settings, the presenters will be recorded. The breakout will NOT be recorded.
Descripción del curso:
Estamos explorando nuevas formaciones con esta nueva sesión de primavera/ otoño de Convirtiéndonos en Creadores de Nuevos Patrones. Estos son tiempos tumultuosos. Los viejos patrones de pensamiento y comportamiento constrictivos han conducido a sistemas de opresión. Necesitamos nuevos creadores de patrones que nos lleven adelante hacia formas de conocer y de ser corporizadas y compasivas, Continuaremos explorando temas de poder y privilegio, ser blanco y de color, amor y odio, fluidez de género, sufrimiento climático y todo lo "más" que venga en nuestro "felt sensing" relacional. Usamos traducción simultánea entre el Inglés y el Español para crear nuevos patrones de lenguaje para estar unidos a través de las culturas y explorar patrones nuevos, de donde surgirán formas de ser frescas. Este curso nuevo es una interacción conjunta entre Focusers de Argentina, Chile y El Salvador que donan de su tiempo para apoyar esta colaboración.
Cómo acontece el cambio social? Este curso experiencial está enraizado en procesos de cambio y es una oportunidad para permitirte experienciar tu lugar en los patrones sociales en un nivel global y comunitario. Nuestros facilitadores quieren compartir sus experiencias como creadores de cambio y ofrecer un espacio para practicar la regulación emocional y la seguridad mientras exploramos temas como el trauma, el racismo, la misoginia, la violencia hacia las mujeres, la homofobia, la transfobia, y la supremacía blanca.
Nuestras exploraciones serán experienciales, guiadas por el grupo, y ofrecerán el entusiasmo de la interacción del grupo grande y la intimidad de los grupos más pequeños.
En el contexto de los grupos grandes , los presentadores serán grabados. Las salas pequeñas NO serán grabadas
Contact
Contact us at
Focusing on Borden
in Toronto Canada
email: [email protected]
socialmedia: @focusingonborden
Registration Information
Cost: Pay-what-you-can
Costo : Paga-lo-que-puedas