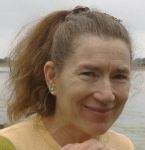 Barbara Chutroo's Bio:
I am a Dance Movement Therapist, Licensed Clinical Social Worker. and Certified Focusing Trainer with twenty years experience in Mental Health. I have extensively explored various forms of movement and dance both as art and as healing practices. These include contact improvisation, yoga, continuum movement, authentic movement, Haitian dance, Tai Chi, Body Mind Centering, and various forms of bodywork. I am also a long time student of Buddhist meditation. My papers are posted on the Focusing website: "Meet Your Body - Bringing Authentic Movement to Focusing" and "On Focusing and Buddhism."

Please share with us your ideas and experience on this topic through the Focusing Institute Facebook page, or the contact form.
This is part of the "Conversations" series. Click this link to see the list of all the conversations.
 
This material is protected by copyright. It may be freely copied, provided its use is solely for educational purposes, not for financial gain or in a commercial setting. It should be properly cited when used in any subsequent written work or other media. ©TFI . All rights reserved.