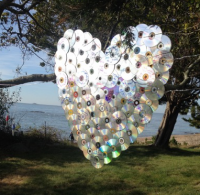 Those of you who were at last year's NEFOT gathering in Connecticut remember the installation, "What Makes Your Heart Sing" (see photo on left). In this conversation, we are exploring the artists' creative process. We hope this inspires us to take a moment to focus on "what makes your heart sing", and share it with us. The project continues at http://LifeSherpa.com/2016/07/what-makes-your-heart-sing/

Marina Strauss:
Marina Strauss was born in Buenos Aires, Argentina and came to Boston to get trained as an expressive arts therapist. Currently she works in her private practice in Arlington and as an adjunct teacher at Lesley University. She integrates the arts in her counseling work as well as in her private life. She is inspired by nature and by the exploratory aspect of creativity which lead the way in her art making adventures and wonderings.

Contact: [email protected]

Sophie Glikson Cahen
Sophie Glikson Cahen moved from Paris to Boston in 1982 to study Expressive Arts Therapy. This path of inquiry led to an artistic awakening. Sophie 's research interests include awakening consciousness and transformation through creativity. One of her main source of inspiration is the natural world. She believes, as an artist and healer, that we impact our world with even the smallest action. She offers Expressive Arts Therapy and Creative Life Coaching in her Medford studio, MA. For more information please refer to www.medfordart.org and https://Vimeo.com/68432460

Contact: [email protected].
Please share with us your ideas and experience on this topic through the Focusing Institute Facebook page, or the contact form.
This is part of the "Conversations" series. Click this link to see the list of all the conversations.
 
This material is protected by copyright. It may be freely copied, provided its use is solely for educational purposes, not for financial gain or in a commercial setting. It should be properly cited when used in any subsequent written work or other media. ©TFI . All rights reserved.