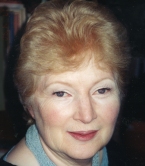 Lynn Preston's Bio:
I have studied and taught the use of focusing in psychotherapy since the early days of its inception. More recently, I have been interested in how it intersects with relational psychoanalysis. My life in New York City is currently brimming with work projects that express this cross fertilization. In addition to my private psychotherapy practice, I am the director of the Focusing Oriented Relational Psychotherapy training program in New York City and the co- director of the Focusing Oriented Therapy program in Cape Town, South Africa. I also co-direct the two year psychoanalytic training program of the Training and Research Institute in Self Psychology. I find it enjoyable and quite challenging to write about the integration of focusing and relational self psychology. You can find several of these articles on the focusing web site as well as our new FORP web site.

Please share with us your ideas and experience on this topic through the Focusing Institute Facebook page, or the contact form.
This is part of the "Conversations" series. Click this link to see the list of all the conversations.
 
This material is protected by copyright. It may be freely copied, provided its use is solely for educational purposes, not for financial gain or in a commercial setting. It should be properly cited when used in any subsequent written work or other media. ©TFI . All rights reserved.