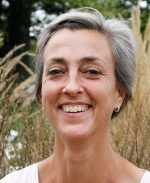 Karen Liebenguth:
Karen is a qualified coach, a Focusing practitioner and an accredited mindfulness teacher. She works with individuals and organisations to foster personal development and specialises in working with clients outdoors in London's parks and green space where she believes insight, change and creativity can happen most naturally. Karen regularly runs mindfulness courses, workshops and walks. Her joys in life are being in nature, Buddhist practice, living simply and communally and friendships. Karen is German and has lived in London for 15 years. If you have a question or would like to talk more with Karen about her approach, feel free to contact her: www.greenspacecoaching.com

Video of this conversation can be viewed here - http://activepause.com/liebenguth-mindfulness-nature/.
Please share with us your ideas and experience on this topic through the Focusing Institute Facebook page, or the contact form.
This is part of the "Conversations" series. Click this link to see the list of all the conversations.
 
This material is protected by copyright. It may be freely copied, provided its use is solely for educational purposes, not for financial gain or in a commercial setting. It should be properly cited when used in any subsequent written work or other media. ©TFI . All rights reserved.