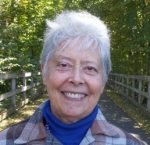 Beatrice Blake Bio
Originally trained as a Doctor of Oriental Medicine, Beatrice Blake has been a Certified Focusing trainer since 2000. She offers individual and small group classes for people who want to learn how to think from their own lived experience. Beatrice offers free half-hour introductory sessions online. She also teaches "Generating a Culture of Peace", combining Nonviolent Communication and Focusing. See her website .

Video of this conversation can be viewed here.
Please share with us your ideas and experience on this topic through the Focusing Institute Facebook page, or the contact form.
This is part of the "Conversations" series. Click this link to see the list of all the conversations.
 
This material is protected by copyright. It may be freely copied, provided its use is solely for educational purposes, not for financial gain or in a commercial setting. It should be properly cited when used in any subsequent written work or other media. ©TFI . All rights reserved.