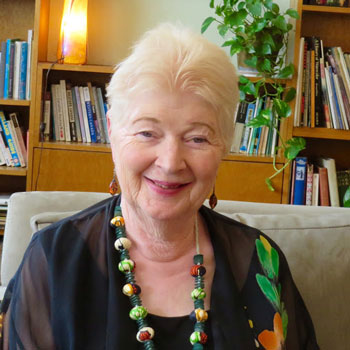 Topic:
In this conversation, Lynn Preston talks about a new venture: Learn Focusing, Pay It Forward. This project involves no money, but instead the commitment to share the teaching with others. It is an introduction to Focusing as a way of relating for community organizers, therapists of all kinds, religious leaders and everyone else. It helps people experience why Focusing, an approach to tuning in to one's deeper implicit knowing, is used all over the world for many projects.

The program consists of four sessions, which include the essentially needed attitude of openness and curiosity; the skills of accessing what we know deeply but have not yet formed in words or thoughts; the ability to listen responsively and deeply; practice in genuine relating-conversation that brings new connection.

Lynn Preston:

Lynn Preston, MA, MS, LP, is a Focusing-oriented relational psychotherapist, teacher and supervisor. She is the Director of the Experiential Psychotherapy Project in New York City. She has written and presented internationally on the integration of Focusing and relational psychoanalysis. She has an abiding interest in the exploration of the relationship between philosophy, theory and practice.

Website: www.lynnprestonforp.com
Please share with us your ideas and experience on this topic through the Focusing Institute Facebook page, or the contact form.
This is part of the "Conversations" series. Click this link to see the list of all the conversations.
 
This material is protected by copyright. It may be freely copied, provided its use is solely for educational purposes, not for financial gain or in a commercial setting. It should be properly cited when used in any subsequent written work or other media. ©TFI . All rights reserved.