We have provided several options for reading this issue of THE FOLIO:
1. You can buy a copy of this issue of THE FOLIO from our store. 
2. The Table of Contents for the current issue of THE FOLIO is displayed below. You can click on the title of any article and the article will be displayed in PDF format in your browser. You must have the free Adobe Reader (click here to download) installed to view these articles. If you have Adobe Reader installed, after you have clicked the link, the article will be displayed in your browser. At this point you can read the article in your browser, print the article, or save a copy on your PC to read or print later.  Feel free to share copies of the articles with your family, friends and students!
3. If you have a broadband internet connection  (Cable or DSL)  you can access THE FOLIO as a single document.   Visitors with dial-up internet connections can also view the single document, but may have to wait several minutes for the document to download.  As above, you can either view, save or print the file, which in this case is the entire issue.  If you would like to use this option, click here to view the entire issue in one document (PDF 1554KB)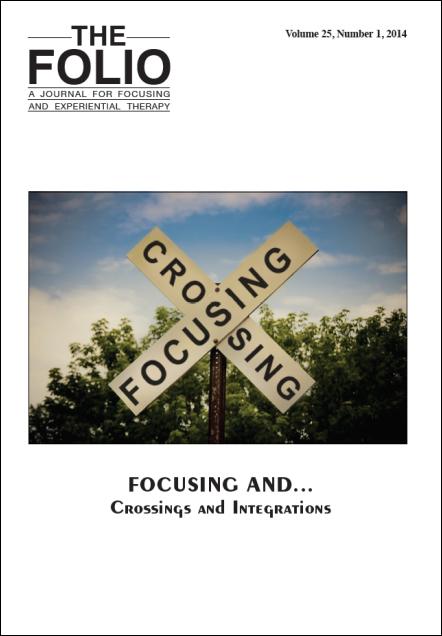 VOLUME 25, NUMBER 1, 2014
FOCUSING AND... Crossings and Integrations (Buy from store)
PART 1: CROSSINGS IN PERSONAL LIFE

3 BIOSPRITUAL FOCUSING: A GIFT TO THE WHOLE BODY
Nada Lou

7 BECOMING OK WITH THE NOT-YET-OK
Mary Elaine Kiener, R.N., Ph.D.

19 THE NATURE AND EXPERIENCE OF A HEARTFELT CROSSING
Kevin McEvenue

29 IS "THE DEATH OF THE EGO" COMPATIBLE WITH FOCUSING? AN INTEGRAL PERSPECTIVE
Stefan Beyer

PART 2: CROSSINGS IN PROFESSIONS

41 TEACHING ARCHITECTURE AS A PROCESS
Ayelet Ben Zvi

48 COMMUNITY WELLNESS FOCUSING IS CROSSING AND COLLABORATING
Patricia A. Omidian, Ph.D. and Nina Joy Lawrence, M.S.

58 ENLIVENING RECOVERY AND EXPANDING FELT RELATING
Suzanne L. Noel

69 CROSSING THE WORLD'S NEED WITH THE ENTREPRENEUR'S FELT SENSE
Rona Shafrir
PART 3: CROSSING IN PSYCHOTHERAPY

83 THE INNER JOURNEY: FOCUSING AND JUNG
Leslie Ellis, MA, RCC

92 STEPPING THROUGH BEAUTY
Robin Kappy, LCSW

99 FOCUSING, MINDFULNESS, AND MINDFULNESS-BASED COGNITIVE THERAPY
Salvador Moreno-López, Ph.D.

111 CROSSING FOCUSING AND NONVIOLENT COMMUNICATION
F. Javier Romeo-Biedma, M.A.

124 ECO-FOCUSING
Ronit Schwartz

131 HEALING HAPPENS FROM WITHIN: CROSSING TWO MODALITIES WITH FOCUSING
Michele Ferraro, Psy.D.

139 INTEGRATION FOR INCREASED SAFETY AND CARRYING FORWARD
Elizabeth Lehmann, MA, MSW, LCSW

152 INTEGRATING FOCUSING WITH THE EXPRESSIVE ARTS THERAPIES AND MINDFULNESS
Laury Rappaport, Ph.D., MFT, ATR-BC, REAT

162 HEALING THROUGH NEW WORLD MEDITATION
Lucinda Gray, Ph.D. and David William Truslow

172 SOCIAL DEVELOPMENT WITH FOCUSING THROUGH THE PAUSE: THE MERGING OF TWO WORLDS
William Hernández & Soti Grafanaki, Ph.D.