We have provided several options for reading this issue of THE FOLIO:
1. You can buy a copy of this issue of THE FOLIO from our store. 
2. The Table of Contents for the current issue of THE FOLIO is displayed below. You can click on the title of any article and the article will be displayed in PDF format in your browser. You must have the free Adobe Reader (click here to download) installed to view these articles. If you have Adobe Reader installed, after you have clicked the link, the article will be displayed in your browser. At this point you can read the article in your browser, print the article, or save a copy on your PC to read or print later.  Feel free to share copies of the articles with your family, friends and students!
3. If you have a broadband internet connection  (Cable or DSL)  you can access THE FOLIO as a single document.   Visitors with dial-up internet connections can also view the single document, but may have to wait several minutes for the document to download.  As above, you can either view, save or print the file, which in this case is the entire issue.  If you would like to use this option, click here to view the entire issue in one document (PDF 1675KB)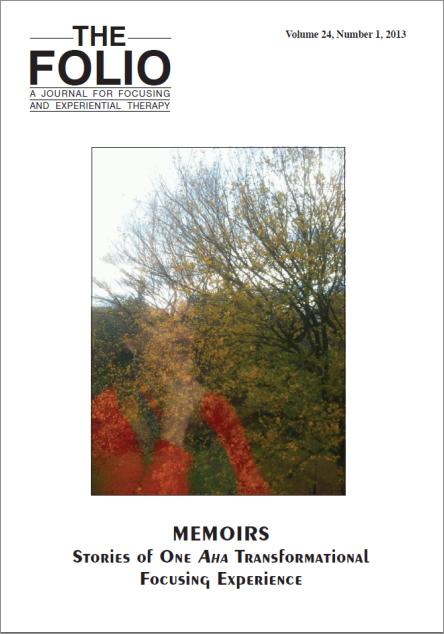 VOLUME 24, NUMBER 1, 2013
MEMOIRS: STORIES OF ONE AHA TRANSFORMATIONAL FOCUSING EXPERIENCE (Buy from store)
TABLE OF CONTENTS

iii PUBLISHER'S PAGE

iv LETTER FROM THE EDITORS

vii ACKNOWLEDGEMENTS

1 The Magic Question
Elizabeth Abraham
3 Memoirs: The Space Between
Sarah Bean
7 Anger Becomes Assertion Power
Janet Beggs, M.A.

11 New Beginnings
Donna Blank, M.S., GCFP/T, LMA

14 Surviving College?Focusing Before and After: "How to Write an Essay Without Chewing Off Your Own Leg"
Abbe Blum, Ph.D. CFP

18 Meeting Landscape: An Instance at the Seashore
Jan Boelhouwers

27 MY VERY FIRST FOCUSING SESSION, LOVE AT FIRST SIGHT
Erna de Bruijn, M.D.

30 A Healing Dialogue: A Self-In-Presence Listens to Anger
Pamela Carr

34 The Pink Silk Arrow: A Visibly Big Change from Focusing
Ann Weiser Cornell

43 Focusing with "Baby On Board"
Barbara Dickinson, C.F.T.

48 Taking off the Straight Jacket: A Healing Focusing Process through the Inner Connection to Other Existing Dimensions
Ifat Eckstein, M.S.W.

52 Green Dream
Jael Emberley, CFT

55 My Big Focusing Aha
Rosie Fanale, APRN, RNC, M.Ed.

58 A Clearing In The Space : My Transformational Aha
María José Fernández-Caballero

61 A Transformational Focusing Experience: The Power of Engaging from One's Embodied Presence: A Tribute to Neil Friedman
Glenn Fleisch, Ph.D., MFT

69 We Have to Find Your Kitten
Rob Foxcroft

79 Transformations Through Focusing?For Client and Therapist!
Isabel Gascón

82 Clearing the Fog ...
Nigel Gibbons

87 Backstage Compassion
Zena Goldenberg, M.A., M.S.W., L.C.S.W.

89 Transformational Focusing: A Journey to Creativity and Discovery of the Inner Poet
Soti Grafanaki, Ph.D.

93 Dragon In My Tummy
Michelle Habington

99 The Art of Listening without Advising: My Own Focusing Story
Hila Haelyon, Ph.D.

103 Fingertips AND DRAGONS: A Memoir
Katarina Halm

108 The Shortest Focusing Session Ever
Bala Jaison, Ph.D.

111 Finding New Levels of AttenTion: San Salvador, 2012
Charles Jennings

114 It Fills Itself in: The Process of Growing from the Insecure Child into the Woman I am
Anna Jongeleen, B.A.

118 A Spontaneous Experience of Focusing
Jocelyn Jacks Kahn

122 Living On In - My First Focusing Session
Jo Kennedy

126 The Bigger Picture
Nada Lou

130 An Inner-Directed Life Awakens!
Kevin McEvenue

133 A Transformative Focusing Session: Birthing in the Presence of Technology
Zehorith Mitz

136 Focusing as a Prayer Practice
Elizabeth Morana, Ph.D.

142 He Ain't Heavy; He's My Brother
Bruce Nayowith

145 Focusing Experience
George V. Neagu

148 A Gentle Path to Radical Change
Suzanne L. Noël

152 The Light That Focusing Found
Paula Nowick, Ed.D.

155 Longings Over The Years: Evolving Focusing Moments
Atsmaout Perlstein, Ph.D.

160 In-Lightenment
Kit Racette

166 Focusing and Black Magic
Lyly Rojas, Ph.D.

169 No More Force: A Cry To Be Heard
Kathy Roy

174 A Good Motel
Marian Sandmaier

177 Memoir: The Beginning of a Friendship
Bebe Simon

179 How Focusing Helped Me Release the Tangled Knotted Rope
John L Threadgold, B.A. (Hons) M.A.

181 Loving People into Being: An Interactive Focusing Experience
Unnamed author

188 Transforming Pain and Healing Physical Injury with Whole Body Focusing: A Memoir
Karen Whalen, Ph.D.
192 How I Did in Four Minutes with Focusing What I Did Not Do in Seven Years of Therapy
Anna Willman

196 Touching "What's Alive"
David C. Young, LCSW