We have provided several options for reading this issue of THE FOLIO:
1. You can buy a copy of this issue of THE FOLIO from our store. 
2. The Table of Contents for the current issue of THE FOLIO is displayed below. You can click on the title of any article and the article will be displayed in PDF format in your browser. You must have the free Adobe Reader (click here to download) installed to view these articles. If you have Adobe Reader installed, after you have clicked the link, the article will be displayed in your browser. At this point you can read the article in your browser, print the article, or save a copy on your PC to read or print later.  Feel free to share copies of the articles with your family, friends and students!
3. If you have a broadband internet connection  (Cable or DSL)  you can access THE FOLIO as a single document.   Visitors with dial-up internet connections can also view the single document, but may have to wait several minutes for the document to download.  As above, you can either view, save or print the file, which in this case is the entire issue.  If you would like to use this option, click here to view the entire issue in one document (PDF 1475KB)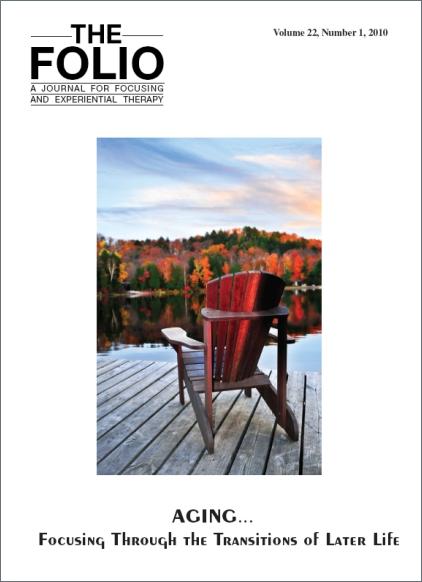 VOLUME 22, NUMBER 1, 2010
AGING...Focusing Through the Transitions of Later Life   (Buy from store)
TABLE OF CONTENTS

iii PUBLISHER'S PAGE

iv LETTER FROM THE EDITORS

vii ACKNOWLEDGEMENTS

PART 1: PERSONAL STORIES

3 THE ESSENCE OF BEING WITH WHAT IS: Thirty-Three Years with Focusing
Reva Bernstein (in conversation with Ann Weiser Cornell)
8 IT NEEDS TO MAKE SENSE
Bebe Simon (in conversation with Rob Foxcroft)
21 MY JOURNEY WITH FOCUSING: A Developmental Process
Jill Drummond
26 SOME THOUGHTS ABOUT FOCUSING AND AGING: Losses and Gains
Joan Lavender, Psy.D.
36 FOCUSING AND AGING: Accompanying a Woman's Aging Journey
Patricia Manessy, NHC
40 GROWING UP WITH FELT SENSING AND STAYING YOUNG INTO AGING WITH FOCUSING
Christel Kraft, M.Ed.
51 FOCUSING HAPPIER
Carol Belin
56 FOCUSING ADVENTURES IN AGING: Alone — Crisis and Opportunity
Hadley Fisk, LICSW
60 FOCUSING AND AGING
Erna de Bruijn
63 THE GOLDEN YEARS
Kevin McEvenue (Focusing with Karen Whalen)
74 FOCUSING, LIFE COACHING AND AGEISM
Judy Robbins, Psy.D.
84 AGING'S MUSIC: Aging and Co-Aging in a Focusing Marriage
Jane and Dave Young, LCSW
PART 2: INSIGHTS: TRANSFORMATIONS USING FOCUSING WITH OTHERS
105 THE BOOK OF LIFE: The Final Chapter
Mary McGuire, CSJ, Psy.D.
111 ATTUNING TO NATURAL PROCESS ACTION STEPS:
How does one fi nd the natural action, the unforced next step?
(Maybe with a Little Wind from Your Fingertips!)
Katarina Halm
130 AN INTEGRATED APPROACH TO PROCESSING AGING AND PAIN
Elfie Hinterkopf, Ph.D.
139 FOCUSING . . . AND HE DIDN'T EVEN KNOW IT . . .
Bala Jaison, Ph.D.
PART 3: AGING, CASES, AND RESEARCH
147 EXCERPTS FROM THE INTRODUCTION TO "REDISCOVERING THE LOST BODY-CONNECTION WITHIN CHRISTIAN SPIRITUALITY"
Edwin M. McMahon, Ph.D. and Peter A. Campbell, Ph.D.
155 ONE MAN'S LIFE JOURNEY: Like the Ebbs and Flows of the Sea
Atsmaout Perlstein, Ph.D.
165 A TAE-BASED QUALITATIVE STUDY OF SUBJECTIVE WELL-BEING FOR AGED JAPANESE MEN
Yoshika Yamaguchi, Satoko Tokumaru