We have provided several options for reading this issue of THE FOLIO:
1. The Table of Contents for the current issue of THE FOLIO is displayed below. You can click on the title of any article and the article will be displayed in PDF format in your browser. You must have the free Adobe Reader (click here to download) installed to view these articles. If you have Adobe Reader installed, after you have clicked the link, the article will be displayed in your browser. At this point you can read the article in your browser, print the article, or save a copy on your PC to read or print later.  Feel free to share copies of the articles with your family, friends and students!
2. If you have a broadband internet connection  (Cable or DSL)  you can access THE FOLIO as a single document.   Visitors with dial-up internet connections can also view the single document, but may have to wait several minutes for the document to download.  As above, you can either view, save or print the file, which in this case is the entire issue.  If you would like to use this option, click here to view the entire issue in one document (PDF 850KB)
3. You can buy a paperback copy of this issue of  THE  FOLIO from our store.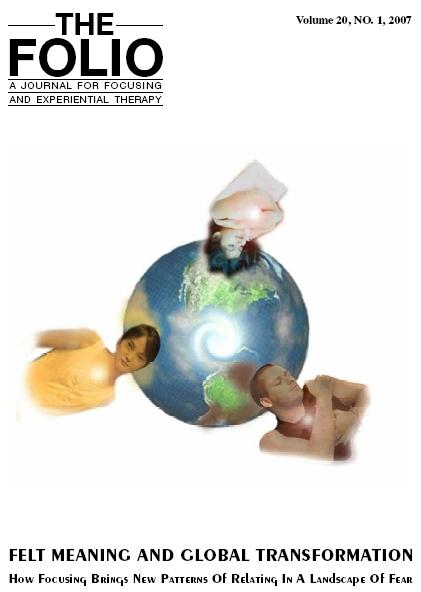 Volume 20, Number 1, 2007 Revised Edition
FELT MEANING AND GLOBAL TRANSFORMATION:
How Focusing Brings New Patterns of Relating in a Landscape of Fear
iii PUBLISHER'S PAGE
vii FOCUSING AND THE EVOLUTION OF CONSCIOUSNESS: AN OVERVIEW OF VOLUME 20, NO. 1.
James Iberg, Ph.D.
Part I: NEW PATTERNS OF RELATING TO OURSELVES
1 A "SAFE CONTAINER" FOR PASSING DOWN A PRAYER TO FUTURE GENERATIONS: MY EXPERIENCE WITH THE HIROSHIMA PEACE MUSEUM
Akiko Doi
5 TRANSFORMING FEAR: WHAT WE CAN LEARN FROM SOME PEOPLE WITH CANCER
Joan Klagsbrun, Ph.D.
15 THE STORY THAT WANTS TO BE TOLD
Joyce Kornblatt
21 EARTHQUAKE FOCUSING: CONTINENTAL AND PERSONAL SHIFTS
Nina Joy Lawrence
25 COPING WITH FEAR IN SHORT TERM EXPERIENTIAL PSYCHOTHERAPY
Mia Leijsson
36 MAKING PEACE FROM THE INSIDE
Rob Parker, Ph.D.
48 FOCUSING: A FORCE FOR GROWTH AND HEALING
Agnes Rodríguez
50 FINDING THE WORDS TO SAY IT: SEARCHING FOR THE MEANING IN LIFE
Mical Sikkema, M.A.
60 INTO THE FEAR-FACTORY: TREATING CHILDREN OF TRAUMA WITH BODY MAPS
Bart Santen
Part II: NEW PATTERNS OF RELATING TO OTHERS
81 FOCUSING ENABLES CHILDREN TO LIVE WITH FEAR
Lucy Bowers
92 BEFRIENDING FEAR: A STORY TOLD FROM TWO ANGLES
Dr. Juan Prado Flores
95 DEALING WITH VICARIOUS TRAUMATIZATION IN THE CONTEXT OF GLOBAL FEAR
Catherine Hudek
102 APPENDIX: CLEARING SPACE: A PRIMER
Catherine Hudek
104 CROSS-CULTURAL COMMUNICATION: A MODEL FOR A NEW PATTERN OF RELATING: AN APPLICATION OF STOPPED PROCESS, LEAFING, AND CROSSING
Doralee Grindler Katonah, Psy.D., M.Div., Edgardo Riveros, Ph.D., Lucy Bowers, Josine van Noord
122 FROM FEAR TO FREEDOM: HOW CREATIVE ALTERNATIVES THEATRE CAN HELP OVERCOME SELF-STIGMATIZATION
Jacqueline Wislesky, M.A.
Part III: NEW PATTERNS OF RELATING TO COLLECTIVE DEVELOPMENT
133 ASSERTIVENESS AND SOLIDARITY: IN A LANDSCAPE OF FEAR
Rob Foxcroft
145 ILLUSION...REALITY? MAKING SENSE OF NON-SENSE THROUGH FOCUSING
Bala Jaison, Ph.D.
152 A COMMUNITY BASED APPROACH TO FOCUSING: THE ISLAM AND FOCUSING PROJECT OF AFGHANISTAN
Pat Omidian, Ph.D. and Nina Joy Lawrence
Part IV: NEW PATTERNS OF RELATING TO THE NEW TOWN
165 THE TOWN AND HUMAN ATTENTION
Eugene Gendlin, Ph.D.